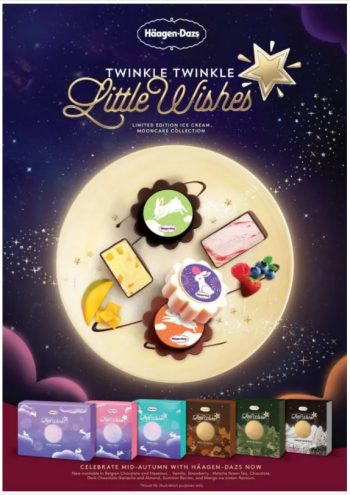 Häagen-Dazs Singapore is having their Bunny-themed Ice Cream Mooncakes. Häagen-Dazs launches Bunny-themed Ice Cream Mooncakes from $68 to welcome the mid-autumn season.
Twinkle Twinkle Little Wishes
This year, they will be introducing a selection of limited-edition ice cream mooncakes filled with your favourite Häagen-Dazs ice cream flavours which include Belgian Chocolate and Hazelnut, Strawberry, Matcha Green Tea, Summer Berries and more.
The chocolate-coated mooncakes will also come with adorable bunny designs which follow the Chinese folklore Chang'E and her jade rabbit.
There will be a total of 6 mooncake collections to choose from with prices ranging from $68 with each box featuring 4 to 6 pieces of ice cream mooncakes in a variety of unique flavours.
Here's the breakdown.
Greeny Moonlight ($68)
1 x Matcha Green Tea ice cream coated with Roasted Rice Tea Chocolate
1 x Matcha Green Tea ice cream coated with Green Tea Chocolate
1 x Vanilla ice cream coated with Sri Lanka Ceylon Tea Chocolate
1 x Chocolate ice cream coated with Sri Lanka Ceylon Tea Chocolate
Choco Moonlight ($68)
1 x Chocolate ice cream coated with Mint Chocolate
1 x Chocolate ice cream coated with Sea Salt Caramel Chocolate
1 x Belgian Chocolate & Hazelnut ice cream coated with Hazelnut Chocolate
1 x Dark Chocolate Ganache & Almond ice cream coated with Orange Chocolate
Harmony Moonlight ($68)
1 x Summer Berries ice cream coated with Black Sesame Chocolate
1 x Mango ice cream coated with Purple Sweet Potato Chocolate
1 x Vanilla ice cream coated with Peanut Butter Chocolate
1 x Vanilla ice cream coated with White Sesame Chocolate