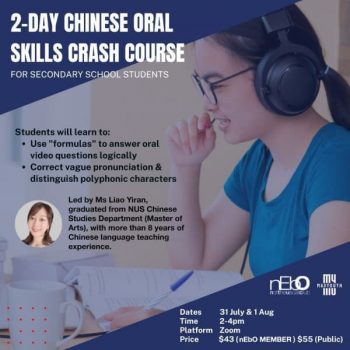 nEbO Singapore is having their 2-Day Chinese Oral Skills Crash Course. Need a quick refresher to sharpen your oral skills in your upcoming exams? Or to better your conversation with your fellow classmates? Help is on the way!nEbO is partnering MaxYouth, a brand under MCC, to organise a special 2-Day Chinese Oral Skills Crash Course, just for Secondary School Students. With an exclusive sign-up for nEbO members at $43/-, the crash course, will give you exclusive knowledge on how to tackle oral questions effectively and correct mispronounced words, to gain the best score possible!
Learn more: https://bit.ly/3eJAdJt
Not a nEbO member yet? Sign up for our nEbO membership for as low as $1.20 a month* to enjoy this special promotion and stand a chance to win an Apple Ipad!