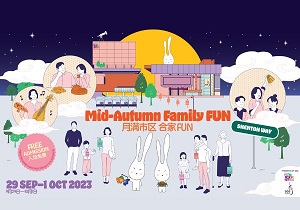 Mid-Autumn Family FUN at Singapore Chinese Cultural Centre. Enjoy 20% off to Mid-Autumn Family FUN 2023.
Make this year's Mid-Autumn Festival an unforgettable one for you and your family! Visit the local Chinese cultural hub at Shenton Way where Singapore Chinese Cultural Centre and the Singapore Chinese Orchestra are located, and immerse yourselves in our culture hub of Mid-Autumn activities!
Enjoy a makers' market, food trucks, guided lantern walks, star-gazing, Mid-Autumn storytelling, magical performances and loads more from 29 September to 1 October!
Programmes
Synopsis
Date & Time
Venue

Lantern Walk: The search for Tu Zai
Come celebrate the Mid-Autumn Festival with your family and friends! With beautiful lanterns lighting your way, follow the storyline to find traces of Tu Zai within the two cultural institutions. A traditional lantern trail with a fun twist awaits! Gather at the Shenton Way entrance of Singapore Conference Hall to begin your journey!

Each participant will receive a lantern for the walkabout.

29 Sep 2023 & 30 Sep 2023
7.30pm – 8pm & 8.30pm – 9pm
Starting Point at Singapore Conference Hall Entrance

Stories of Mid-Autumn: A Participatory Experience
Come join us for a 30-minute interactive storytelling session designed for children and families to learn the myth of Chang'e and the Jade Rabbit! How did they end up on the moon? Why do we eat mooncakes during the Mid-Autumn Festival? Enjoy a delightful time with our energetic storytellers and be part of the story by participating in the activities! The session is conducted in both English and Mandarin. We look forward to celebrating the festival with you and your little ones!
30 Sep 2023 & 1 Oct 2023
11.30am – 12pm
12.30pm – 1pm
1.30pm – 2pm
Singapore Conference Hall Exhibition Hall, Level 1
There and Back Again – Planetarium show
Embark on a tour of the solar system and learn fun facts about each planet.
30 Sep 2023
2.30pm – 3.30pm, 3.30pm – 4.30pm
7.30pm – 8.30pm, 8.30pm – 9.30pm
Singapore Conference Hall Exhibition Hall, Level 1

Brew Brew Tea Workshop
Xiang Pian, Pu'er, Tieguanyin — parents and children will learn about different types of tea and try their hand at tea brewing! They will also get a chance to blend and brew Singapore's very own Nanyang tea at this workshop hosted by Pek Sin Choon.
30 Sep 2023 & 1 Oct 2023
1pm – 3pm
Singapore Chinese Cultural Centre Creative Box, Level 6
Decorate "N" Play Ocarina workshop
Experience the enchantment of ocarina, one of the best musical instrument for family bonding. Its compact size makes it accessible to both adults and children. Join our Decorate ""N"" Play Ocarina Workshop, where you can personalise your instrument and learn delightful melodies of the Chinese classic ballad: The Moon Represents My Heart.

Specifically tailored for first-time participants, this workshop not only shares the captivating history of the ocarina but also offers you the unique opportunity to play along with skilled musicians at the concourse after the workshop. Don't miss this captivating journey into the world of ocarina music!

30 Sep & 1 Oct 2023
3.30pm – 4.15pm (Conducted in English)
4.30pm – 5.15pm (Conducted in Mandarin)
Singapore Chinese Cultural Centre Creative Box, Level 6

Harmonies Across Generations: A Musical Exploration of Timeless Connections
Step into a world of musical wonder and venture on an orchestral journey that promises to connect children and parents through melodies that resonate across time. Join Asian Cultural Symphony Orchestra (ACSO) as they cultivate a mutual appreciation between generations; Children get the chance to explore the very tunes that have held a special place in their parent's hearts, while parents bear witness to the evolving soundscape of their children's generation. Embark on this enthralling voyage, where melodies become bridges, connecting generations and revealing the enduring enchantment of harmonies that transcend time.

In this experience, allow familiar nursery rhymes and children's songs to evoke feelings of childhood memories. Expect popular songs inspired by the moon, playful audience interactions, and a showcase of ethnic instruments paired with a Western orchestra.

30 Sep 2023
3pm – 3.45pm
7pm – 7.45pm
SCO Concert Hall
Mid Autumn Crosstalk Celebration
The Mid-Autumn Crosstalk Celebration gathers a group of young talents and Crosstalk veterans such as Johnny Ng and Lee Seng Hui to bring you a selection of hilarious Singapore Crosstalk!

Helmed by Artistic Director Han Lao Da, well-known Crosstalk playwright, Singapore Chinese Cultural Award recipient and Cultural Medallion awardee, this performance promises a fun-filled time of wit and humour for everyone!

1 Oct 2023
11am – 12.10pm
3pm – 4.10pm
20% off to Mid-Autumn Family FUN 2023
Promo code <SAFRAMA23>
Date: 29th September 2023 to 1st October 2023
Book Now: https://www.sistic.com.sg/events?s=mid-autumn%20family%20fun

EverydayOnSales help brands connect with our community, the largest warehouse sales consumers database in Singapore. Advertise with EverydayOnSales Singapore.