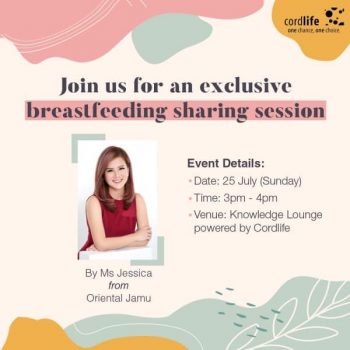 Cordlife Singapore is having their Exclusive Breastfeeding Sharing Session. Looking to equip yourself with knowledge about breastfeeding before the arrival of your little one?Look no further! Join us for an educational afternoon with Jessica from Oriental Jamu as she shares useful information ranging from breastfeeding essential items to the various categories of 'breastfeeding mothers' out there!
What's more – take this opportunity to address any burning questions that you have about cord blood banking when you head down to the "Knowledge Lounge powered by Cordlife"!
T&Cs apply. Per unique couple, unique pregnancy.