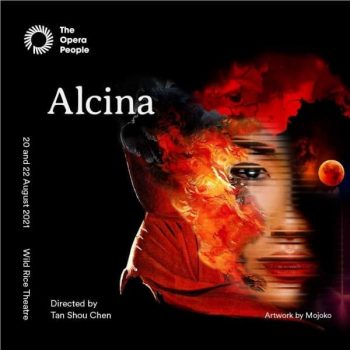 Wild Rice Singapore is having their The Opera People Alcina. TICKETS AVAILABLE NOW: The Opera People will be presenting a new adaptation of George Frideric Handel's Alcina, in collaboration with Red Dot Baroque at the Wild Rice theatre! There will be two shows – 20 Aug 2021 (7:30pm) and 22 Aug 2021 (5pm) so get your tickets and catch this operatic masterpiece directed by Tan Shou Chen!
Stripped of her powers and confined to a cell, the sorceress Alcina is forced to relive the moments of her life that led to her downfall on her enchanted island. After all, no place ruled by a woman can be truly free from the machinations of men for long. Betrayed by her lover Ruggiero, undone by his wife Bradamante and abandoned by her sister Morgana, Alcina awaits her fate, haunted by the memories of a life that was never hers to begin with.
Directed by Tan Shou Chen and featuring a cast of Singapore's finest singers, including Teng Xiang Ting as Alcina, Chan Wei En as Ruggiero, Renata Hann Sungwon as Morgana and Felicia Teo Kaixin as Bradamante, in collaboration with Red Dot Baroque, Alcina is a masterful exploration of the relationship between femininity, power and love.