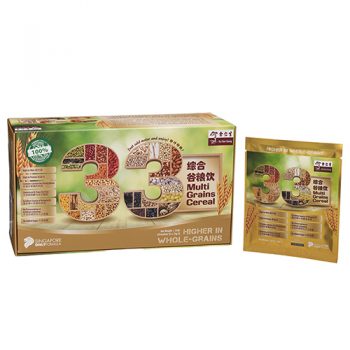 Eu Yan Sang Singapore is having their 33 Multi Grains Cereal Promotion with Passion Card. 33 MULTI GRAINS CEREAL 20'S ($29.90) – 3 BOXES @ 25% OFF.
A heritage brand since 1879, Eu Yan Sang is a leading brand in the health and wellness space, with an established reputation in Traditional Chinese Medicine (TCM). In Singapore, Eu Yan Sang is one of the largest TCM retailers with more than 40 outlets islandwide and with an online store, www.EuYanSang.com.sg.
Retailing fine quality Chinese herbs and Chinese proprietary medicine, health food and TCM supplements, Eu Yan Sang offers more than 300 products and over 1,000 different types of Chinese herbs and other medicinal products.
Eu Yan Sang products are synonymous with quality consistency and the brand adopts modern and scientific approaches in TCM to stay relevant, such as the implementation of the herb fingerprinting process to quantify the ingredients and properties of Chinese medicine used in each product.
PASSION CARD PRIVILEGE:
33 Multi Grains Cereal 20'S ($29.90) – 3 boxes @ 25% off
Terms & Conditions: