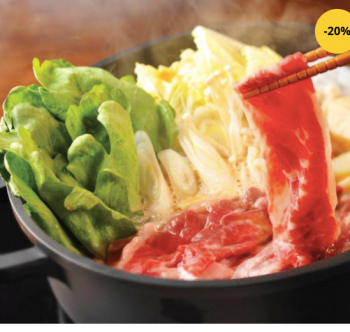 Suki-Ya at Marina Square Singapore is having their 20% Off All-You-Can-Eat Hot Pot BuffetPromotion on Chope. Get 20% off All-You-Can-Eat Hot Pot Buffet by purchasing this voucher today.
More Details
How to enjoy this deal:
1. Select your preferred deal and click "Buy Now" to purchase.
2. You will receive an e-voucher through the Chope App (Under Profile > My Vouchers) or via email.
3. Simply present your voucher before ordering at the restaurant to enjoy the deal.
What's Included:
20% Off Lunch Buffet
Monday to Thursday
11:30am to 03:00pm
$18.74 nett for 1 pax
20% Off Dinner Buffet
Monday to Thursday
06:00pm to 10:00pm
$24.38 nett for 1 pax
Terms of Use