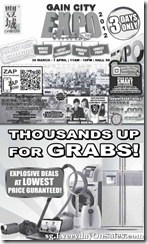 Summary: Gain City Expo for 2012 will start from this Friday ( 30 March 2012. Thousands up for grabs, with lowest price guaranteed. Also, meet your favorite DJ's & catch Jean Danker with the First XI players on 30 March 2012. It's happening for 3 days only. Please come early and shop for your electronics and electrical goods all over the weekend.
Company: Gain City
Sales: 30 March – 1 April 2012
Time: 11am – 10pm
Venue: Singapore Expo Hall 5B
Don't want to miss out great sales anymore?
Subscribe to our daily updates on warehouse sale, promotions & discounts information.
We respect your privacy. Your information will not be shared with any third party and you can unsubscribe at any time
For those who are unable to visit the sale promotion event or looking for other products discounts offers in Singapore, you can grab some great deals thru the Online Deals in Singapore at the
link
:
Filed Under: Computers & Electronics • Fashion Lifestyle & Department Store • Sales Calendar
Comments & Share With Your Friends